Lynn, Massachusetts Motorcycle Insurance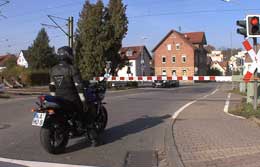 We are a Massachusetts based insurance agency that specializes in motorcycle coverage. We will shop the best motorcycle insurance companies in Massachusetts to find you the best coverage at an affordable price. You can either fill out our online quote form or contact us for a free, no-obligation quote.

Insurance companies will take into consideration many different factors when insuring your motorcycle in Massachusetts. One company is not always the best fit for everyone, that is why we compare companies for you. These factors include:
Driving record
Credit History
Your Age, Address
The Type of Motorcycle
The Number of Drivers

Most companies offer coverages similar to auto insurance policy. This would include your bodily injury and property damage liability. You may also consider additional Massachusetts motorcycle insurance including medical payments, comprehensive and collision coverage. Uninsured motorist covers you in the event you are injured by someone who does not carry insurance or may not have enough insurance to cover your injuries.

You may also qualify for discounts that could possibly lower your premiums. These may include:
Multiple policies with our company
Safety courses that you may have taken
Renewals
Insurance on more than one motorcycle

So let us take a look at your current policy and evaluate your personal, financial and lifestyle changes for your Massachusetts motorcycle insurance.

Motorcylists: Be Prepared and Protected
Pick the Right Insurance
First, determine how much insurance you're required to have. Most states require liability insurance, which covers you if you cause an accident injuring another person or damaging someone's property.
When picking your liability limits — the maximum an insurance company will pay in the event of that type of claim – a good rule of thumb is to review your car insurance and buy a policy with similar limits and deductibles, according to the experts at market-leader Progressive.
Once you choose liability limits, you may want to add insurance protecting your bike. Collision covers damages from accidents while Comprehensive covers damages caused by incidents like fire or theft. If you buy Collision or Comprehensive, you'll need to select a deductible, the amount you'll have to pay out-of-pocket if you have a claim. Be sure to pick an amount you can afford.
Insure Custom Parts
If you've added some serious chrome to your bike, gotten a custom paint job, or installed a GPS, consider additional accessory coverage. For example, Progressive usually includes $3,000 in accessory coverage when you purchase Comprehensive or Collision coverage. You also can buy more coverage up to $30,000 worth.
Roadside Assistance
If you like taking long rides into the country and are worried about breaking down in the middle of nowhere, consider Roadside Assistance insurance.
Progressive also offers coverage that will pay up to $500 for lodging, transportation and food if your bike has a mechanical breakdown more than 100 miles from home. Most customers can add both coverages to their policy for just $15 yearly

CALL US TODAY FOR A QUOTE
(781) 595-2071